Merrill Peterson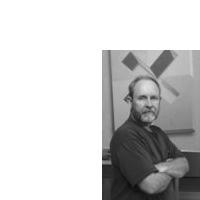 Since about 1977 I've been working on paintings that explore issues related to space, illusion, form and shape.

As a child I drew and painted all the time. When I discovered there was such a thing as perspective, I was amazed and fascinated. The idea that one could create illusion of space or depth by following certain basic principles was magic to me.

How we see, how we think we see, how we see what we expect to see and how we are deceived by our preconceptions and prejudgements presents fertile ground for painting exploration. What is possible on a two-dimensional surface offers possibilities beyond the reality of physical three-dimensional space. The fiction of painting provides opportunity for suprise and magic.

I'm trying to see more clearly, with more insight, awareness and understanding and then translate what I see to painting. I bring with me an attitude that almost nothing is what it first appears to be. I'm simultaneously delighted and repulsed by irony, dichotomy and the positive and negative aspects of virtually everything I observe. To paraphrase Minor White, "I'm not just interested in what a thing is, I'm interested in what else it is."

Artist Bio

Merrill Peterson was born and educated in Iowa, but has spent his adult life in Lincoln, Nebraska. When he and his wife Nancy first came to Lincoln he taught at Lincoln High School where he was chair of the art department. He ventured into the corporate world for some years and is currently Graphic Design Program Chair at Southeast Community College.