Tom Rierden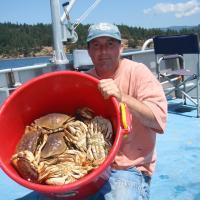 My four-year-old daughter is standing at her little easel, she's gripping one of those red Crayola fatties. Sponge Bob Square Pants is blasting from the television. I wonder whatever happened to my cartoon heroes, "Foghorn Leghorn, and, Heckle and Jeckle?" My kid says, "look Pop, a circle!"... Shape.

I flashed back to when I was a kid, drawing whacked out bugs, and flying saucers on Xerox paper with one of those big black magic markers that would gas you out. ... Line.

I feel privileged to address my easel and ponder questions like, "Why is the color yellow so hysterical?".... Color.
Artist Bio

A native of Lincoln, Tom Rierden studied at UN-L, the Colorado Institute of Art, and the Art Institute of Seattle. Initially a designer working in stained glass, Rierden turned to painting while working as an assistant to William Cummings. Typically, his compositions show people engaged in activities, with their features obscured. His work can be described as bright, psychedelic, palette and traditional technique, in which layers of oil paint are interspersed. Rierden, whose studio is on Orcas Island in Washington, also spends six months a year living in Thailand. Rierden has participated in numerous exhibitions; among the collections in which his work is represented are McDonalds, Microsoft,  Duncan Aviation, the Museum of Nebraska Art and Bakersfield, CA Museum of Art. In 2010 he was the Anacortes, WA Arts Festival poster winner.